This is the first study describing the brain organization and detailed brain-body scaling of three large bodied batoid species, Mobula japanica, Mobula thurstoni and Manta birostris.
Brain Mass/Body Mass
The position of the Mobulid brain was determined in the minimum convex polygon of brain weight/body weight ratio and compared to sharks of similar brain size and those with similar life style and feeding strategy (filter feeding).
Chondrichthyans have been found to possess large brains in relation to other vertebrates and the brain mass/body mass ratio has received attention in the last few decades [8, 47-50]. Northcutt [5, 6] measured brain mass/body mass ratios in several species of chondrichthyans, including batoids, and derived a minimum convex polygon from the data. Myagkov [8] included some additional species, yielding similar polygons. While the coefficient of allometry of large-bodied sharks has been calculated by Myagkov [8], Demski and Northcutt [51], and Yopak et al. [9], large-bodied batoid referred as 'devil ray' has been included only in a chondrichthyan polygon with limited information by Striedter [24]. The three Mobulid species presented in the present study did extend the upper boundary of the batoid minimum convex polygon, as well as the chondrichthyan minimum convex polygon described earlier.
According to the encephalization polygons, the encephalization level of cartilaginous fishes exceeds that of cyclostomata, teleosts, amphibians and other primitive vertebrates. The allometry coefficient values determined by Myagkov [8] were as follows: in Agnatha 0.2-0.4, in Gnathostomata 0.49-0.66, and in human 0.93.
Large brains were correlated with habitat, lifestyle, and cognitive capabilities in a variety of vertebrate groups [15, 24, 36, 52, 53], including chondrichthyans [5, 6, 9, 10, 30]. It is believed that the organization of the brain is more similar in species with analogous but independently evolved lifestyles than those that share taxonomic classification [17], although this hypothesis does not completely fit on large bodied filter feeder elasmobranchs. Comparing 35 other batoid species Mobulids demonstrated a large brain compared to their body size, unless other large bodied plankton feeder shark species. The large bodied and plankton feeder basking shark (Cetorhinus maximus) [54] extended the lower boundary [47] of the brain mass/body mass minimum convex polygon for cartilaginous fishes. Rhincodon typus and Megachasma pelagious were found to have small brain relative to their body weight as well [17]. However, the large bodied and plankton feeder batoids extended the upper boundary of the batoid polygon and were present in the upper portion of the polygon for cartilaginous fishes. The relatively small brains of planktivorous predators were related to their opportunistic passive predation strategies [17], which might be less demanding cognitively in terms of sensory and/or motor requirements in comparison to more agile hunters [9, 47, 55], however Mobulids possessing large brains do not support this hypothesis. Although, the enlargement of their brain is most likely associated with their complex behaviors and 'social intelligence' and not with their foraging strategy [17, 24, 36].
The brain mass was found to increase with body mass in phylogenetic level among sharks by Yopak et al. [9]. Comparison of the encephalization quotients of mature sharks of similar body mass (Carcharhinus leucas) [42], body mass=54.36kg, EQ=0.92, Sphyrna lewini [56], body mass=59.88kg, EQ=1.38 by [6] and the Mobula (59.6kg, EQ=1.303) supports the idea that a greater brain mass can be the consequence of a larger body size in elasmobranchs. In fact, in the present study, the actual brain mass of mature M. japanica seemed to be even larger than it would be expected from the given body mass. However, it has been demonstrated by Marino [57] that similar levels of encephalization can emerge in very different phylogenetic lineages by reporting that some odontocetes, such as Tursiops truncatus possess significantly higher EQ levels than all anthropoid primates except Homo sapiens. For comparison of brain and body masses between relevant elasmobranch species see Table 2.
The brain mass/body mass ratio can also change with age and maturity [8]. For Elasmobranchii, already investigated at ontogenetic level [58, 59], a remarkable decrease in the relative brain mass takes place together with an increasing body mass, which is typical for other primary aquatic vertebrates, first of all fishes [60, 61]. According to Lisney et al. [16] ontogenetic shifts occur in the size of sensory brain areas during brain development in elasmobranchs. Thus, the relative brain mass are comparable between species of similar maturities. To eliminate this factor, the Mobulids studied in this paper have all reached their maturity.
In further studies a direct correlation has been found between large brain size and complex behaviour in bony fishes [62] and reptiles [63, 64]. It is suggested that the requirements for learning the complex spatial organization of the reef habitat might have influenced the evolution of brain size [6, 30, 50]. This correlation seems to be true among batoids as well, since mobulid rays are pelagic and they mostly live in coastal habitats where it is most likely a selective advantage if they are able to learn the complex spatial organization [6, 9, 30, 50].
Kotrschal et al. [36] suggested that the increase in relative brain size is related to complex social behaviours and intra- and interspecific interactions. This kind of 'social intelligence' has been correlated with brain size also in birds and mammals [9, 24]. The cognitive abilities of cartilaginous fishes have been scarcely studied, however, carcharhinid and sphyrnid sharks are considered to be social animals [65-67] that often form true schools. Their enlarged brain might be related to complex social and reproductive behaviours, such as dominance hierarchies and courtship behaviour [9, 65]. Mobulas also form schools [12, 45], but there is only a single report describing the complex courtship behaviour of Manta birostris [68].
Endothermy, as the elevation of body temperature by metabolic heat production represents one of the most significant developments during vertebrate evolution [69] that might be connected to enlarged brain size [6]. Sharks in general are poikilothermic, but some shark species (Isurus and Lamna) are homeothermic as they are able to maintain body temperatures well above ambient temperature of environment [70] by countercurrent flow of blood at certain places of their body. Among Mobulid rays, in Mobula tarapacana and Manta birostris, a rete mirabile cranica as a countercurrent heat-exchanger has been described around their brain [25-27]. Interestingly, the same families are also characterized as large-brained elasmobranchs in which these unique adaptations might serve to enhance their ability to exploit cooler environments (either deeper water or at higher latitudes) with greater efficiency by slowing the rate of metabolic heat loss to the environment or allowing them higher activity level.
Relative brain size was proposed to be related to the mode of reproduction by Northcutt [6]. Mobulas have gestation periods as long as two years [71] and species in the families of carcharhiniforms, sphyrnids, dasyatids and myliobatids evolve yolk sac placentae or placental analogs (trophonemata), increasing energy flow to the embryos by 800 to 5000% [71]. The same families have the most complex neural organization and the highest brain mass/body mass ratios known for elasmobranchs [6].
The Mobulid brain organization (especially M. japanica) was most similar to the Sphyrnid shark's (Sphyrna mokarran, Fig. 5C

), that are active hunters living in a 3-dimensional environment (pelagic) and show potential for social behaviour. These sharks with the highest level of neural development showing greatly hypertrophied telencephalons and cerebella (Sphyrna mokarran 67%) [9] live in reef habitats, while an increase in the relative size of the telencephalon is believed to be associated with complex environment, like in many other vertebrates [24, 34, 72, 73]. Interestingly, both Mobulids and Sphyrnid sharks have an extremely broad head, that probably plays an important role increasing the efficiency of different sensation modalities and their complex integration. The high brain weight/body weight ratio, similar brain organization, the enlargement of the telencephalon and cerebellum, the highly and similarly foliated cerebellum in Sphyrnids and Mobulids represent an independent and convergent evolution, although their feeding habits are very different and they are distantly related.
Various neuroanatomical measures, such as absolute size, progression index, EQ and residual measures were compared by Deaner et al. [74] as assays of cognitive ability in non-human primates. They however found that total brain size, which show positive correlations with body size, predicted cognitive variables across non-human primate genera better than residual or EQ measures, which control for body size and therefore not correlated with it. They suggested future comparative studies to employ (log) brain size as a proxy for cognitive abilities. Based on this theory manta rays (with the largest brain among fishes) and mobulids in general should possess the most developed cognitive abilities among batoids (or among fishes) based on their brain size, however we have very limited data on this topic, since only one study described the learning and sensory abilities of a captive manta ray, Manta birostris [75]. The brain weight of Manta birostris is comparable to the primate siamang (Symp syndactylus) [57] suggesting similar cognitive abilities, although these assumptions should be considered carefully, since due to `aquatic weightlessness` fishes are able to obtain much larger body sizes than terrestrial animals without a similar increase in neural tissue [57].
Telencephalon
The telencephalon constitutes the highest percentage of total brain mass in Mobula, and Mobula telencephalon shows the highest percentage of all batoids studied so far, even greater than the value found in holocephalans and squalomorph sharks (see Table 3). Of the sharks only the galeomorph Sphyrna mokarran [76], Carcharhinus amblyrhynchos [77], Carcharhinus falciformes [42] have larger telencephalic percentages than Mobula.
An advanced level of brain evolution in sharks and batoids may be best indicated by features like the size of the telencephalon, an expanded and well differentiated non-olfactory telencephalic pallium, especially the central nucleus and medial pallium [6]. In Mobula, a hypertrophy of the inner portion of the dorsal pallium occurs (Fig. 3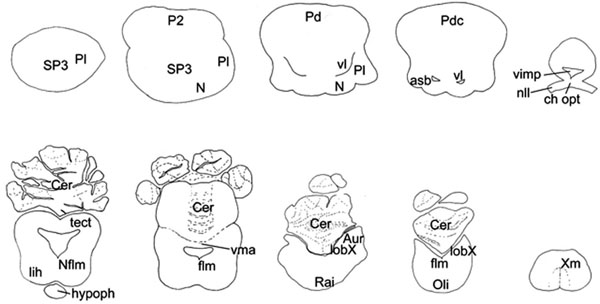 ), termed central nucleus, like in other batoids [14]. Visual, electrosensory, acoustic and tactile projections converge in the central nucleus from several thalamic nuclei [78]. The development of the central nucleus has been linked to complex social behaviors such as dominance hierarchies and other forms of 'social intelligence' [51]. An enlarged central nucleus of the dorsal pallium has been recorded in Cetorhinusmaximus [47]while documented sightings of large numbers of whale sharks have been reported by divers and fishermen. Among Mobulids, Mobula aggregations have been observed while hunting schools of fish in organized groups, as well as Manta feeding aggregations with as many as about 100 individuals were observed (personal observation, personal communication with Anne-Marie Kitchen-Wheeler, Guy Stevens and Douglas Seifert). In addition Manta rays gather in groups during courtship activity [68], but very limited data is available on other aspects of their social behavior.
Primary olfactory projections are restricted to lateral and ventral telencephalic areas, while mechanoreceptive and electroreceptive lateral line sensory modalities reach the chondrichthian forebrain as well. Because of their multimodal input as integrating information received by the various sensory systems, such as olfactory, visual, auditory, as well as mechanoreceptive and electroreceptive lateral line information, and influencing motor behaviour, the chondrichthian telencephalon is often considered as a higher-order coordinating centre [7].
The telencephalon, as percentage of total brain mass, amounts to 24-31 % in squalomorph sharks, 35-67 % in galeomorph sharks [5, 6, 8, 9], 29.03-60.6 % in batoids [5, 6, 8, 10], while in Mobula this value was 61 %.
Cerebellum
The cerebellum is a conservative structure found in all gnathostomata. Among Teleostei, the size of the cerebellum is relatively large in Mormyrids, and they are noted for their use of electricity and sound [24]. This part of the brain in chondrichthyans is relatively large compared to that of most of other vertebrates [79]. It is suggested that the cerebellum modulates motor tasks [48, 80] and error correction [81, 82] or it is involved in the coordination of target tracking and the analysis of the consequences of organisms' own movements, rather than the control of these movements themselves [9, 83]. The cerebellum constituted a relatively high percentage (19,05%) of the total brain mass in Mobula.
The surface of the cerebellar corpus is smooth in holocephalans, squatinomorph and squalomorph sharks (Fig. 6A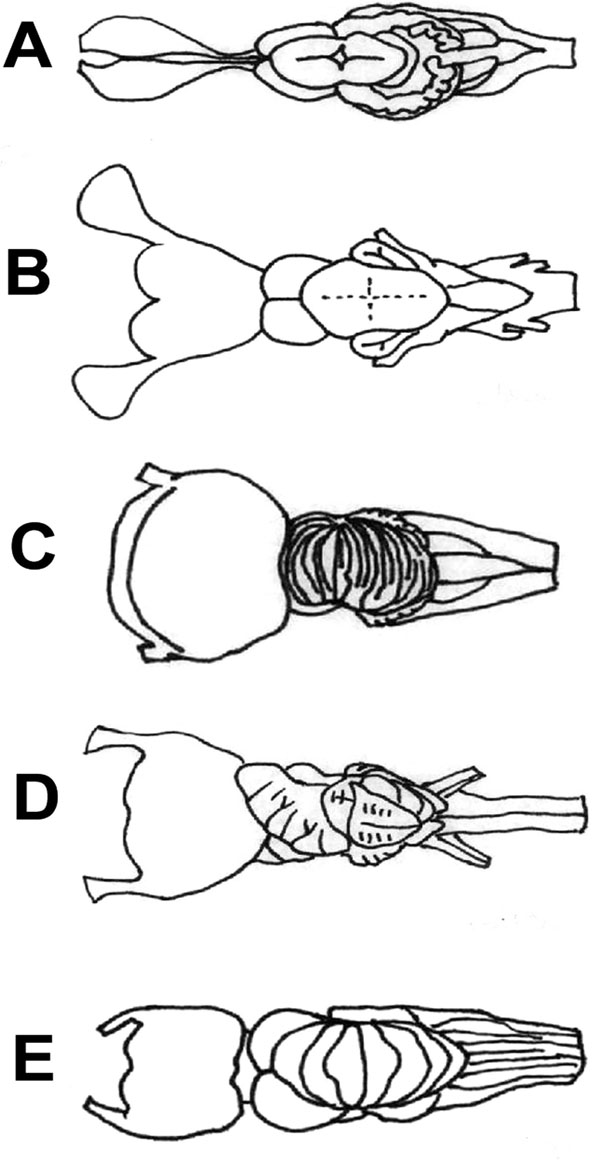 , B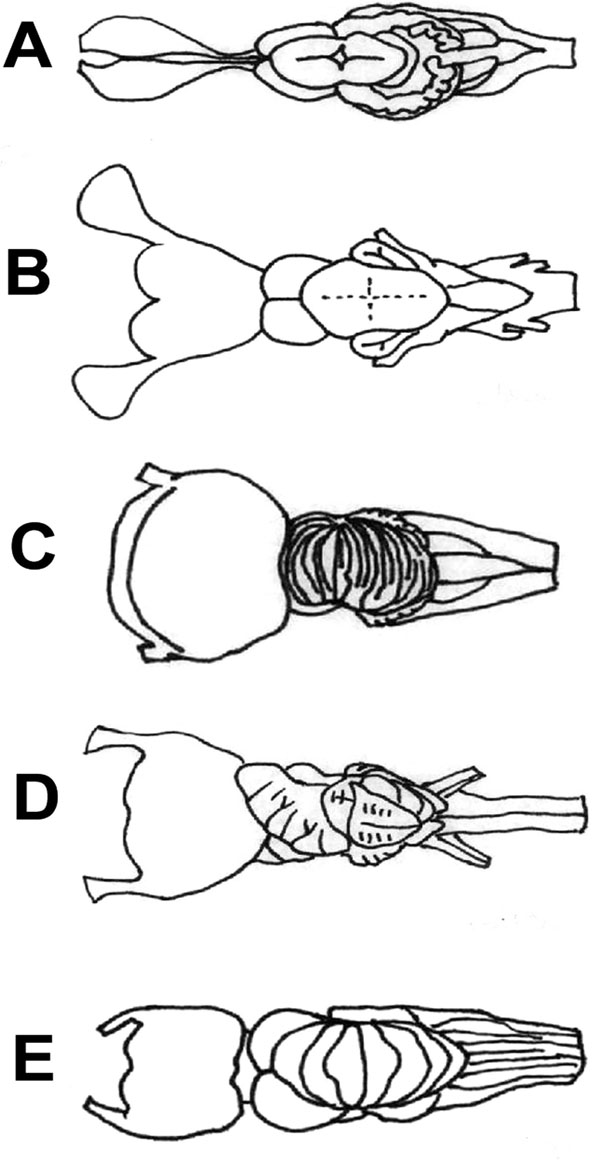 ), while some parts of the cerebellar cortex undergo hypertrophy in the advanced galeomorph sharks (Fig. 6C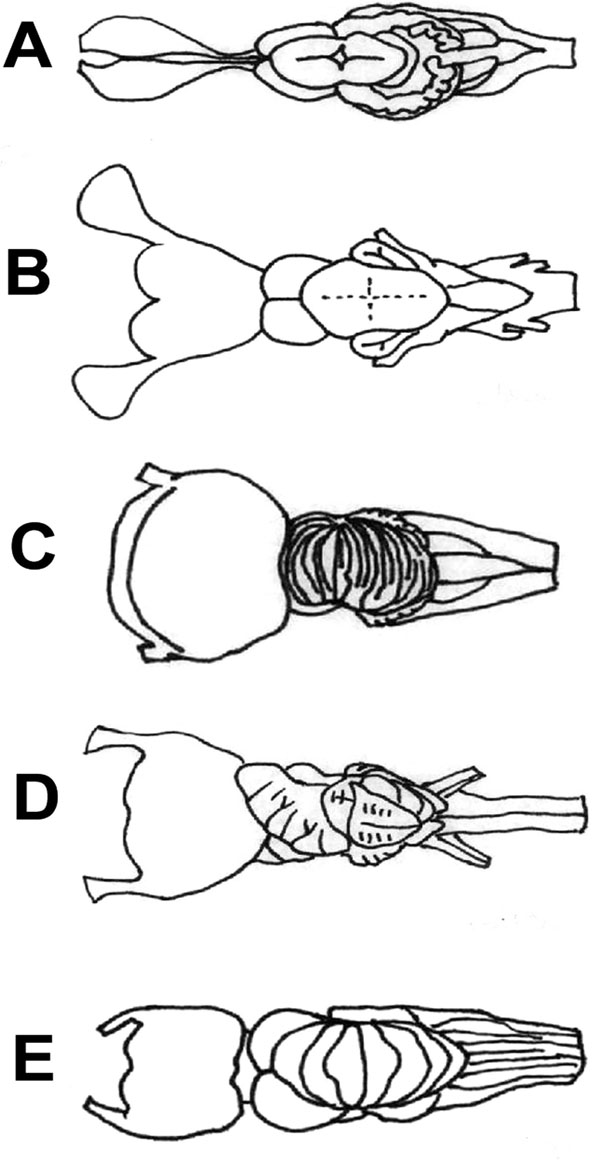 ) and the myliobatiforms (Fig. 6D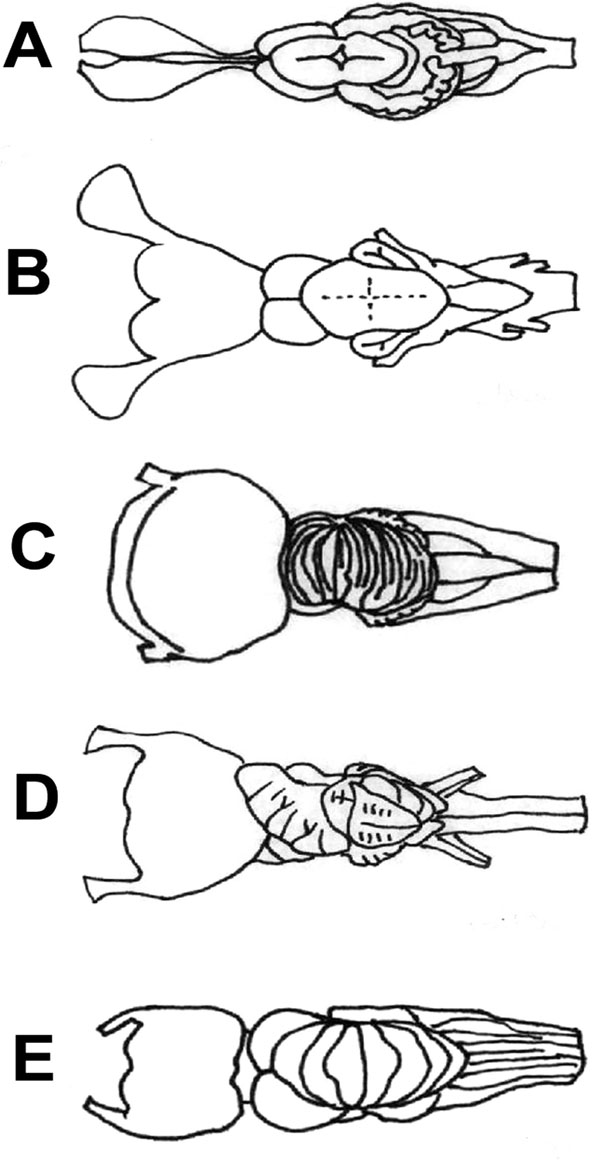 ) [1]. They have evolved independently a complex, highly foliated corpus cerebelli. Asymmetry of the foliated cerebellum might be a common feature in rays of the myliobatiformes order. Intraspecific variation in the symmetry of the hypertrophed cerebellum in Myliobatis aquila [84] were reported by Voorhoeve [85] based on small sample size (1-3 animals), and variations in the cerebellar morphology have also been presented in the Atlantic stingray, Dasyatis sabina [86] by Puzdrowski and Leonard [87], but these variations were not connected to gender. Sexual dimorphism on the cerebellar foliation of M. japanica could be detected, however based on only a small number of studied specimens (10). Sexually dimorphic behaviors, such as mating, nursing, aggression, territorial behavior might be established and maintained by different neural circuits [81, 88] causing morphological differences in the cerebellar foliation between genders. Further investigation is needed whether the difference in the foliation is strongly related to sex or age, or it represents a random distribution. In anthropoid primates, mean female brain weight/body weight values are significantly greater than those of males due to secondary increases in body size in males, while no sexual dimorphism in body size has been described among odontocetes [57]. No sexual dimorphism could be detected in body weight of M. japanica, although the average brain weight was slightly higher in females.
Fiebig [89] observed that visual responses predominate in the anterior lobe of the cerebellum, which is greatly hypertrophed in Mobula, and tactile responses in the posterior lobe in the thornback guitarfish. The auriculas were moderately developed in Mobulids, although it is well developed only in deep sea elasmobranchs with good lateral line sensation.
The cerebellum of the Mobula is most similar to that of lamniform and advanced carcharhiniform sharks (Fig. 6C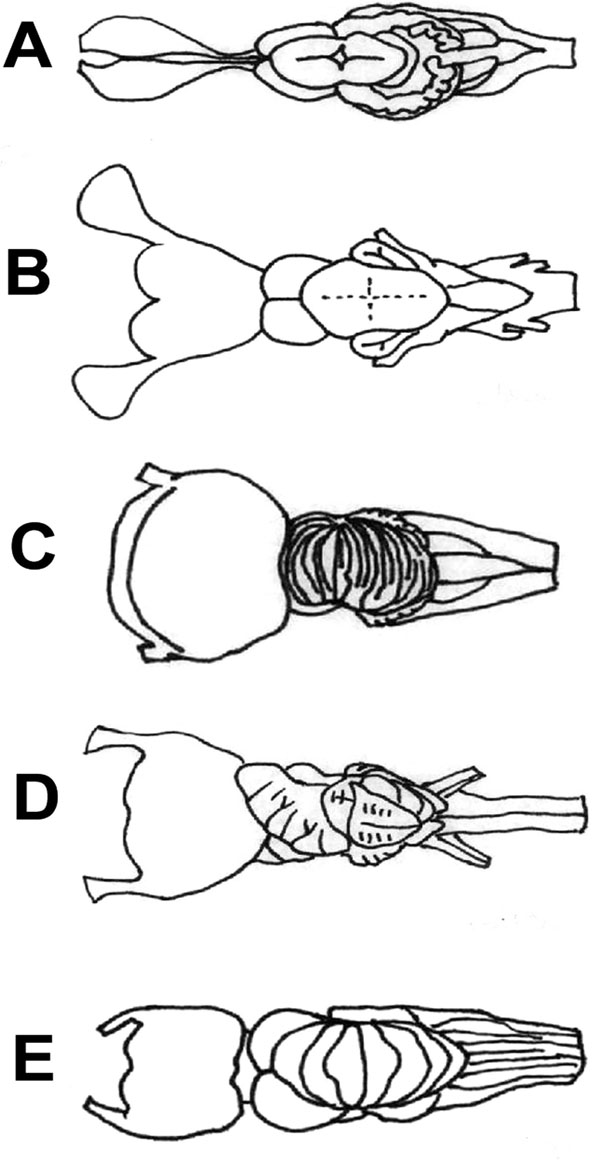 ), which possess a complexly convoluted cerebellum as well. In squalomorph sharks (Fig. 6B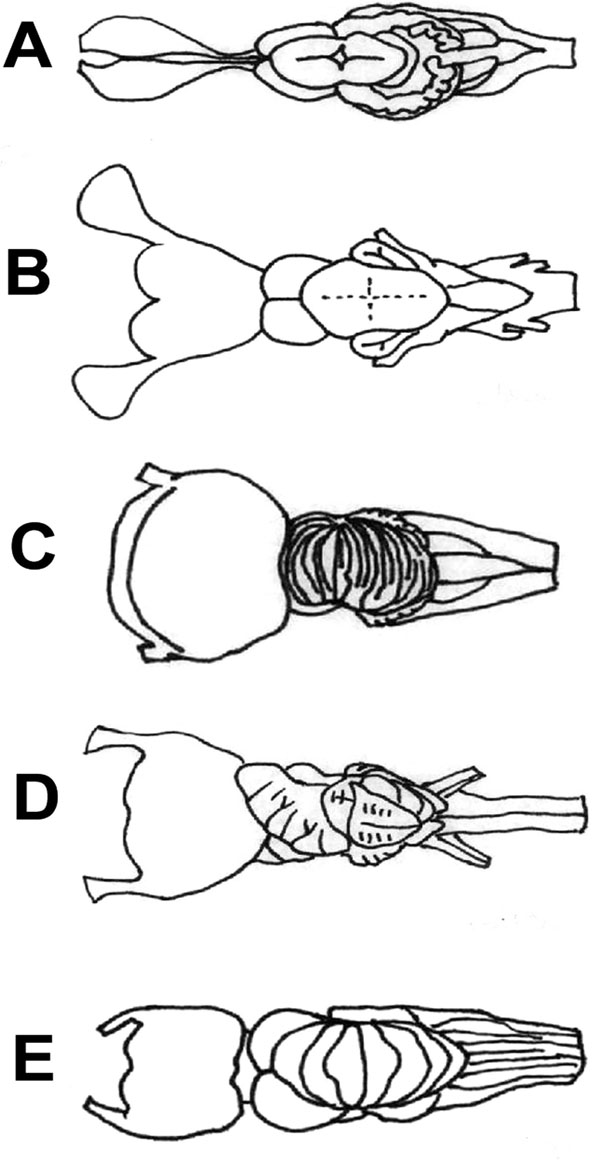 ) the percentage of the cerebellum is around 19.4 % of the total brain mass, similarly to that of Mobula, but the former's foliation is much simple than the latter one. Shark species with the relatively largest cerebella did not necessarily also exhibit the highest levels of foliation [9]. There is a trade-off in most species between relative cerebellar size and foliation, although not in the case of the most highly derived, highly active and maneuverable predators, such as Alopias,Sphyrna [9] and some myliobatids [10], especially Mobulids, according to the present study. Mobulids possessed the highest cerebellar foliation among batoids so far.
Other large-bodiedfilter-feeder sharks, such as Rhincodon typus and Cetorhinus maximus (Fig. 6E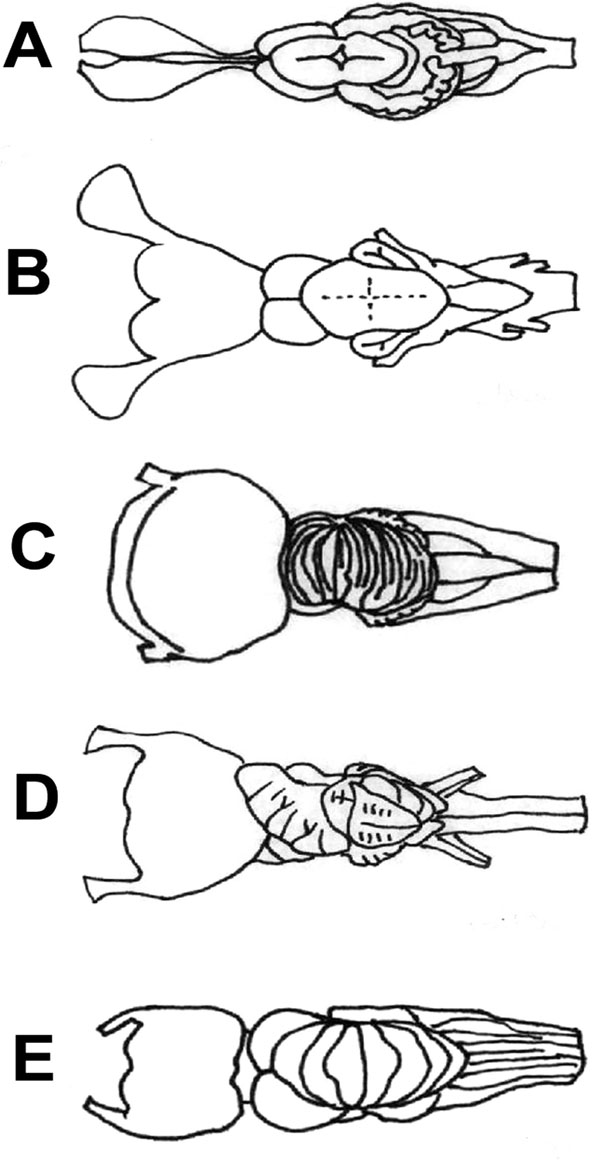 ) also had large and highly foliated cerebellum [17]. Sharks with the most highly foliated cerebella are all wide-ranging, migratory species [9], which would imply that Mobulids might travel long distances, however there is only limited data available on the migratory behaviour of Mobulids as yet [90]. Cerebellar foliation appears to be related to high maneuverability [9, 91, 92], locomotor abilities and sensory-motor integration as well [48], it is believed to reflect increased sociality and cognitive abilities [36, 40, 72] rather than prey capturing itself [83], which is particularly evident in the case of Mobulids.
Fig. (6)


Brain diagrams of four different radiations of cartilaginous fishes, dorsal aspect: A) a holocephalus (Callorhinchus millii); B) a squalomorph shark (Squalus acanthias) [7]; C) a galeomorph shark (Carcharinus leucas) [10]; D) and the brain of a myliobatiform ray (Myliobatis californica). E) Basking shark (Cetorhinus maximus) [47] brain is presented, as of a large bodied plankton feeder such as Mobulids. Brains are not to scale. For comparison see Fig. (2A, B) for M. japanica brain.