Advances in Chitosan Material and its Hybrid Derivatives: A Review
Duck Weon Lee1
,
Hosun Lim2
,
Ha Na Chong3
,
Woo Sub Shim*

,

1
1
Fiber and Polymer Science Program, College of Textiles, North Carolina State University, Raleigh, NC 27695-8301, USA
2
Textile Technology Management Program, College of Textiles, North Carolina State University, Raleigh, NC 27695-8301, USA
3
Polymer and Color Chemistry Program, College of Textiles, North Carolina State University, Raleigh, NC 27695-8301, USA
Abstract
Chitosan is a safe and friendly substance for the human organism; therefore, it has become of great interest not only as an underutilized resource, but also as a new functional material of high potential in various fields. Some unique properties make chitosan an excellent material for the development of new industrial applications and recent progress in chitosan material is quite noteworthy. In this review, we mainly take a closer look at various chitosan applications and intend to provide interdisciplinary insight in the scientific knowledge immediately usable to realize fabrications. In addition, based on current research and existing products, some new approaches in this fascinating area are thoroughly discussed
Keywords: Chitosan, application, agricultural, water treatment, food, medical, biotechnological, fabrication.

---
Article Information
Article History:
Received Date: 30/1/2009
Revision Received Date: 06/4/2009
Acceptance Date: 26/7/2009
Electronic publication date: 11/9/2009
Collection year: 2009

© Lee et al.; Licensee Bentham Open.
open-access license:
This is an open access article licensed under the terms of the Creative Commons Attribution Non-Commercial License (
http://creativecommons.org/licenses/by-nc/3.0/
) which permits unrestricted, non-commercial use, distribution and reproduction in any medium, provided the work is properly cited.
* Address correspondence to this author at the Fiber and Polymer Science Program, College of Textiles, North Carolina State University, Raleigh, NC 27695-8301, USA; Tel: 1-919-610-9679; Fax: 1-919-515-6532; E-mail: jacob0720@gmail.com
---
---
1. INTRODUCTION
Chitosan is a polysaccharide which is derived from chitin (Fig. 1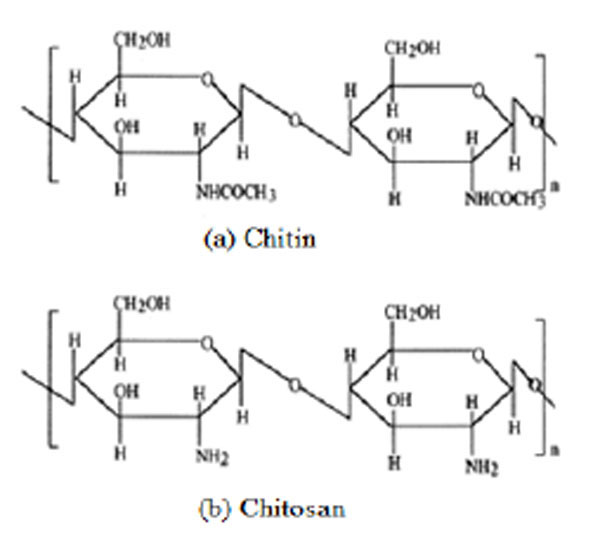 ) [1]. Chitin is the second most abundant polysaccharide in the world, dominated only by cellulose [2]. This renewable resource is found in many naturally occurring organisms such as fungi, yeast, and is the principal component in the exoskeleton of sea crustaceans such as shrimp and crab. Chitin has a homogeneous chemical structure made up of 1-4 linked 2-acetamido-2-deoxy-β-D-glucopyranose. Although chitin is found naturally in large amounts through many sources, chitosan is only found in some fungi with limited quantities. The chitosan used in industrial applications is typically derived from chitin through the use of chemical or enzymatic treatments of the shells of shrimp or crab secured from the waste products of the crabbing and shrimping industries. Chitosan is the form of chitin which has been deacetylated to at least 50% of the free amine form, which has a heterogeneous chemical structure made up of both 1-4 linked 2-acetamido-2-deoxy-β-D-glucopyranose as well as 2-amino-2-deoxy-β-D-glucopyranose. Recently, much attention has been paid to chitosan as a potential polysaccharide resource Although several efforts have been reported to prepare functional derivatives of chitosan by chemical modifications [3-5] very few attained solubility in general organic solvents [6, 7] and some binary solvent systems [8-10]. Chemically modified chitin and chitosan structures resulting in improved solubility in general organic solvents have been reported by many workers [11-20]. We review mainly three areas that are enabled by the use of advanced materials: water treatment, medical, and biotechnological applications. Also, we summarize recent results suggesting the hybrid chitosan material may be a key enabling material for various industries.
Fig. (1)


Chemical structures of (a) chitin and (b) chitosan.
2. PROPERTIES
The properties of chitosan are greatly affected by the conditions under which it is processed, because it is the process conditions that control the amount of deacetylation that occurs. The degree of deacetylation controls the amount of free amino groups in the polymer chain. The free amino groups give chitosan its positive charge. The amino group along with the hydroxyl group gives chitosan its functionality which allows it to be a highly reactive polysaccharide. Chitosan's positive charge allows it to have many electrostatic interactions with negatively charged molecules. The processing conditions as well as the amount of functional groups created by deacetylation allow for side group attachment, which then effects crystallinity which directly relates to chitosan's ability to solubilize in acidic aqueous solutions, which is an important aspect of chitosan's processability [21-23].
Chitosan has many physicochemical (reactive OH and NH2 groups) and biological (biocompatible, biodegradable) properties that make it an attractive material for use in various applications. These properties include: biodegradability, lack of toxicity, anti-fungal effects, wound healing acceleration, and immune system stimulation [24-26]. Because of chitosan's biological and chemical properties it has the ability to bind to particular materials including cholesterols, fats, proteins, metal ions, and even tumor cells. This allows chitosan to be used as a chelating agent in various applications [27].
2.1. Degradation
Chitosan can be degraded through several means and because its degradation rate is inversely proportional to the degree of crystallinity and consequently the amount of deacetylation, its degradation rate is able to be engineered by controlling the amount of deacetylation that occurs during processing. At temperatures above 280 ºC thermal degradation occurs and polymer chains rapidly break down. Enzymatic degradation is the leading means of controlling the break down of chitosan. A wide array of hydrolytic enzymes, such as lysozyme, which is the primary enzyme responsible for degradation of chitosan and is found in the lyphoid systems of humans and animals, can be used to naturally degrade chitosan [21, 23]. Within the body the degradation of chitosan leads to the release of aminosugars, which can be easily processed and released through the metabolic system. Degradation is an important property to understand so that processing and end applications can be designed accordingly [26].
2.2. Molecular Weight
Chitosan molecular weight distributions have been obtained using HPLC technique [28]. In addition, the weight-average molecular weight (Mw) of chitosan has been determined by light scattering [29]. Viscometry is a simple and rapid method for the determination of molecular weight. The charged nature of chitosan in acid solvents and chitosan's propensity to form aggregation complexes require care when applying these constants. Furthermore, converting chitin into chitosan lowers the molecular weight, changes the degree of deacetylation, and thereby alters the charge distribution, which in turn influences the agglomeration. The weight-average molecular weight of chitin is 1.03×106 to 2.5×106, but the N-deacetylation reaction reduces this to 1×105 to 5×105 [30].
2.3. Solvent Properties
Chitin and chitosan degrade before melting, which is typical for polysaccharides with extensive hydrogen bonding. This makes it necessary to dissolve chitin and chitosan in an appropriate solvent system to impart functionality. For each solvent system, polymer concentration, pH, counterion concentration and temperature effects on the solution viscosity must be known. As a general rule, the maximum amount of polymer is dissolved in a given solvent towards a homogeneous solution. A coagulant is required for polymer regeneration or solidification. The nature of the coagulant is also highly dependent on the solvent and solution properties as well as the polymer used [31, 32]. Water-soluble chitin, however, can be prepared by either homogeneous deacetylation of chitin [33] or homogeneous N-acetylation of chitosan [34, 35]. Water solubility is obtained only when the deacetylation degrees of chitin is about 0.5. It should be emphasized that the water-soluble chitin is obtained by homogeneous reaction instead of heterogeneous reaction. The former treatment gives a random copolymer of N-acetyl-Dglucosamine and D-glucosamine units, whereas the latter one produces a block copolymer of these two units. X-ray diffractometry revealed that the random copolymer was almost amorphous, but the block copolymer was highly crystalline, although the degree of deacetylation of the two polymers is the same. Kurita et al. [33-35] concluded that the water solubility was attributed to the greatly enhanced hydrophilicity resulting from the random distribution of acetyl groups and the destruction of the tight crystalline structure of chitin.
3. CURRENT APPLICATIONS
Due to chitosan's many attractive properties such as reactivity, biodegradability, natural origin, abundance, etc., it has many areas of application including: waste and water treatment, medical, biotechnological areas, and fabrications.
3.1. Water Treatment Applications
Chitosan's functional groups and natural chelating properties make chitosan useful in wastewater treatment by allowing for the binding and removal of metal ions such as copper, lead, mercury, and uranium from wastewater. It can also be utilized to remove dyes and other negatively charged solids from wastewater streams and processing outlets. Chitosan grafted with poly(acrylonitrile) has been further modified to yield amidoximated chitosan [36] a derivative having a higher adsorption for Cu2+, Mn2+, and Pb2+, compared to cross-linked chitosan. The adsorption capacity had a linear dependence on pH in cases of Cu2+ and Pb2+. However, a slight decrease in the adsorption capacity was observed in case of Zn2+ and Cd2+ [37]. Chitosan has been modified with different mono as well as disaccharides. Others [38] have also reported the metal uptake abilities of macrocyclic diamine derivative of chitosan. The polymer has high metal uptake abilities, and the selectivity property for the metal ions was improved by the incorporation of azacrown ether groups in the chitosan. The selectivity for adsorption of metal ions on polymer was found to be Ag+>Co2+>Cr3+. These results reveal that the new type chitosan-crown ethers will have wide ranging applications for the separation and concentration of heavy metal ions in environmental analysis. In addition, a novel type cellulose-based ion exchanger, chitosan-g-carboxymethylcellulose (CS-g-CMC) (Fig. 2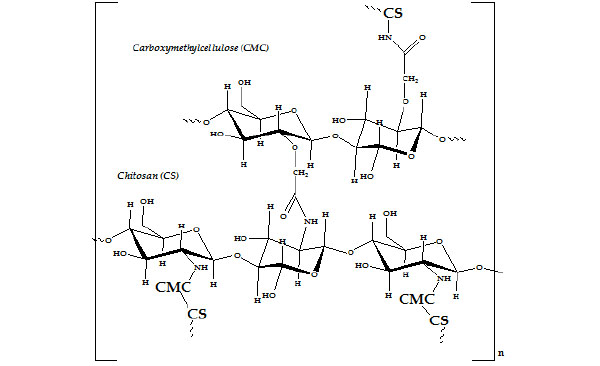 ), has been successfully prepared by thermal graft copolymerization for removal heavy metal ions from aqueous solutions. The adsorption properties of the grafted copolymer relied on pH value, CS content and reaction temperature. The high adsorption selectivity and good kinetic properties of metal ions indicated that the novel CS-g-CMC ion exchanger could be used to remove the heavy metal ions from aqueous solution [39]. Cyclodextrin (CD) containing polymers, due to their ability to form host–guest complexes, are compound of interest in many applications; from the stabilization and the controlled release of active components in formulation to extraction and separation processes. The chitosan grafted with β-CD derivatives have ability to form complexes with a variety of other appropriate compounds, to develop novel sorbent materials [40-43].
Fig. (2)


Chemical structure of CS-g-CMC biomaterials [39].
3.2. Medical Applications
Due to chitosan's ability to function in many forms it has many areas of interest within the medical industry including: orthopedic, tissue engineering, wound healing, drug delivery, and surgical adhesion [25-27].
3.3. Biotechnological Applications
3.3.1. Cell-Stimulater
Soyabeans were coated with a thin layer of depolymerized chitin, carboxymethyl (CM)-chitin and hydroxyethyl (HE)-chitin, and the seeds were cultured in the field. It was observed that the seed chitinase increased 1.5–2.0-fold, the seed germination rate increased by 6%, the pod number increased by 9%, the plant dry weight increased by 8%, and the crop yield also increased by 10–12% over the control [54]. Dressing with chitin films, sponges and fibres enhanced chitinase activity in tree-bark tissues around wounds up to four-fold over the control. The chitin films, which were implanted in or used to dress the tree-bark tissues, were digested within 4 to 24 weeks thereafter. The fate of N-acetyl-D-glucosamine in plant tissue is unknown. Phenylalanine ammonia-lyase was stimulated by treatment with chitin, and lignin formation in the plant increased. As a result, wound healing was increased [55].
3.3.2. Fat-Net
Many supplements can help in the fat reduction process, including pyruvate and chitosan. Pyruvate, found in red apples, some types of cheese, and red wine, stimulates fat loss and boosts exercise performance. Chitosan attaches itself to fat in the stomach before it is digested, thus trapping the fat and preventing its absorption by the digestive tract. Fat in turn binds to the chitosan fibre, forming a mass which the body cannot absorb, and which is eliminated by the body. Chitosan fiber differs from other fibers in that it possesses a positive ionic charge, which gives it the ability to bond chemically with the negatively charged lipids, fats and bile acids [46, 56, 57].
4. FABRICATIONS
5. CONCLUSIONS
Chitosan have a wide range of applications. They may be employed, for example, to assist numerous problems in environmental and biomedical engineering. Chitosan is a remarkable chelation agent and create heavy metal traps. In addition, chitosan is biocompatible, shows antimicrobial and antifungic activities which make it a favorable option for biomedical applications. It has been proven to be useful in promoting tissue growth in tissue repair and accelerating wound-healing and bone regeneration. Moreover, chitosan can be incorporated into hydrogels and microspheres which demonstrate large potential in delivery systems for drugs, proteins or genes. In addition, chitosan offers pH-responsive-solubility, external, electrical stimuli, and enzymatic assembly. These capabilities confer considerable versatility to chitosan and suggest this biomaterial has a particularly bright future for various industries.
ACKNOLWEDGEMENTS
We thank for the financial support from the 2005-2009 Graduate Student Support Plan (GSSP) in the college of Textiles, NC State University, USA.
REFERENCES