1. INTRODUCTION
In South Asian countries, India has a big contribution with agricultural grain and food productions especially rice import (Gaiha and Kulkarni, 2007Gaiha, R & Kulkarni, VS (2007) Foodgrain surpluses, yields and prices in India. Global forum on agriculture: Policy coherence of development Paris, France.) followed by other Asian countries. A good portion of the Indian landmass is surrounded by oceans, one of the main sources of CO2 and moisture during summer monsoon (Gurber et al. 2009Gurber, (2009) Oceanic sources, sinks, & transport of atmospheric CO2. Global Biochem Cyc, 23, GB1005
[http://dx.doi.org/10.1029/2008GB003349] ). From the time of industrial revolution, the concentration of the tropospheric CO2 rose from 290 to 403.64 ppm, NO2 rose from 270 to 326 and CH4 rose from 722 to 1893 ppm (CDIAC 2015). Water vapor, CO2 and CH4 are the three top most greenhouse gases for global warming potential (Daniel 1999). These greenhouse gases keep on increasing in the atmosphere and have an adverse impact on human health and grain production (Horowitz 2006Horowitz, LW (2006) Past, present, and future concentrations of tropospheric ozone and aerosols: Methodology, ozone evaluation, and sensitivity to aerosol wet removal. J Geophys Res D Atmospheres, 111, D22211.
[http://dx.doi.org/10.1029/2005JD006937] ; Avnery et al. 2011Avnery, S, Mauzerall, DL, Liu, J & Horowitz, LW (2011) Global crop yield reductions due to surface ozone exposure: 1. Year 2000 crop production losses and economic damage. Atmos Environ, 45, 2284-96.
[http://dx.doi.org/10.1016/j.atmosenv.2010.11.045] ). The sources of these greenhouse gases (e.g. CO2, NO2, CH4) are transportation, combustion, fossil-fuel burning, ocean and wetlands. In India, during monsoon season, the possibilities of the production of the greenhouse gases increase, because of the monsoonal winds passing over the ocean surface, and the land becomes wet and soggy and live stocks also get wet. NOx gases emit due to fertilization scattering in farm lands, wetland and the augmentation of the first rainfall over dry land (Mosier et al. 2003). India is one of the countries known for agriculture and farming tied with monsoonal rainfall (Gadgil and Gadgil 2006Gadgil, S & Gadgil, S (2006) The Indian monsoon, GDP and agriculture. Econ Polit Wkly, 4887-95.). Methane is formed due to microscopic organisms living in falling leaves from the tree and in rice plant's roots (Groenigen et al. 2011van Groenigen, KJ, Osenberg, CW & Hungate, BA (2011) Increased soil emissions of potent greenhouse gases under increased atmospheric CO2 Nature, 475(7355), 214-6.
[http://dx.doi.org/10.1038/nature10176] [PMID: 21753852] ). Ocean stores CO2 in the form of HCO3- (carbonate ion) in the mixed layer and deep water which comes upward on the surface from equatorial and subtropical ocean upwelling where temperature is around 29oC (Somero et al. 2016Somero, GN, Beers, JM, Chan, F, Hill, TM, Klinger, T & Litvin, SY (2016) What changes in the carbonate system, oxygen, and temperature portend for the Northeastern Pacific Ocean: A Physiological Perspective. Bioscience, 66(1), 14-26.
[http://dx.doi.org/10.1093/biosci/biv162] ).
During summer, farming in India depends on the monsoonal rainfall (Krishna Kumar et al. 2004Kumar, NK, Rajeevan, M, Pai, DS, Srivastava, AK & Preethi, B (2013) On the observed variability of monsoon droughts over India. Weather Clim Extrem, 1, 425-0.). Natural rivers, canals, lakes and ponds are not sufficient to fulfill the need of water for farming and bio diversity. Every year, Indian summer monsoon pours copious rainfall over Indian landmass from June to September (Parthasarathy and Mooley 1978). India has 70% (86cm) of its annual rainfall within 4 months of summer. Indian summer monsoon rainfall initiates around June 1, over the coast of Kerala state (Fig. 1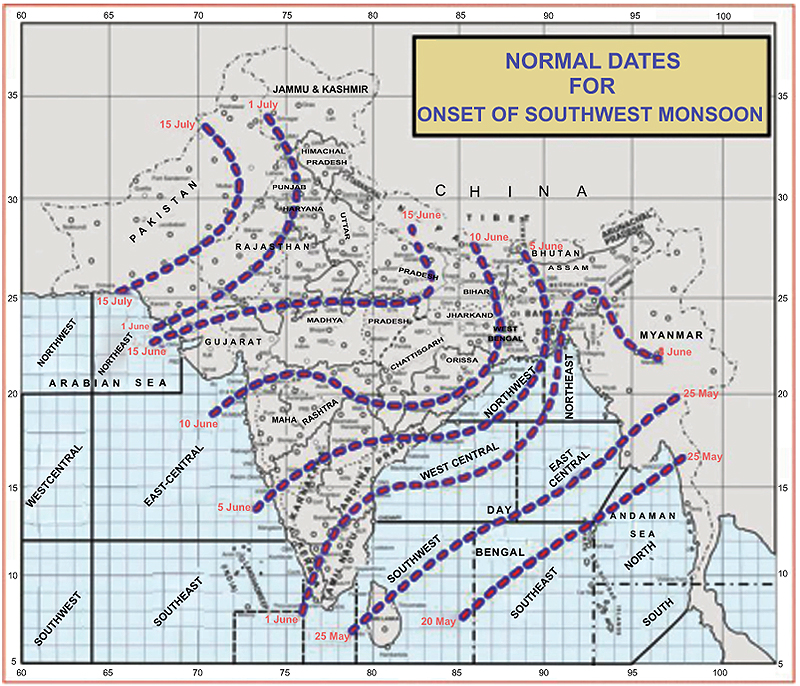 ) and gradually progresses northward, finally covering all Indian landmass by July 15. In Fig. (1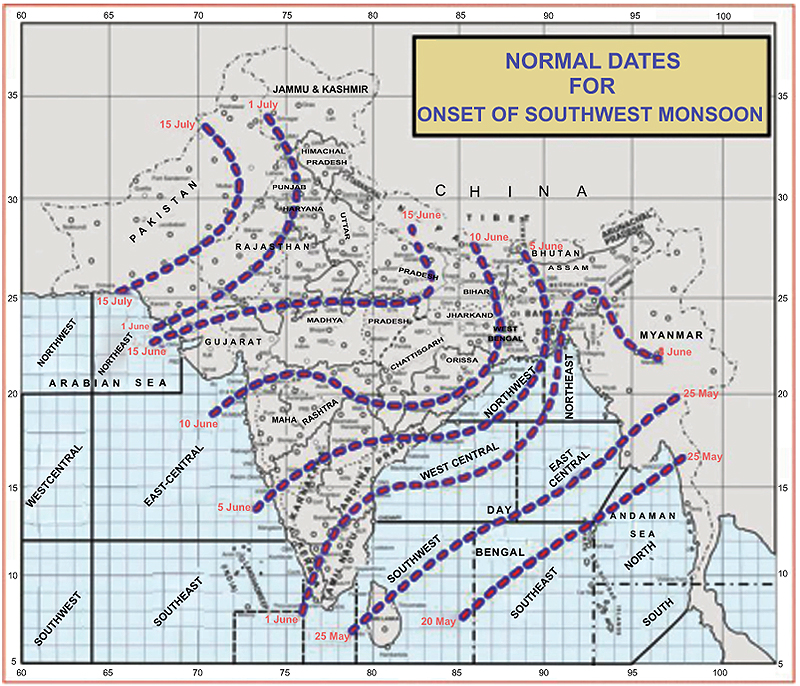 ), smooth and curved lines of blue-red are oriented from west to North-East and North, demonstrating five days' northern limit of accumulated rainfall. These are the climatological dates of the very first summer rainfall across every state over the Indian subcontinent.
Fig. (1)
Climatological dates of northern limit of Indian summer monsoon (isochrones) over Indian region (http://www.imd.gov.in).
The isochrones of the onset of monsoon and northern limit of monsoon keep on varying each year (Kumar and Krishnamurti 2013Kumar, V & Krishnamurti, TN (2015) Mesoscale modeling for the rapid movement of monsoonal isochrones. Atmosc Sci Lett, 17, 78-86.). At the first arrival of monsoonal rain over a region, farmers of that region start to germinate the seeds for the new crop of rice. India is the second leading country after China, which produces the maximum load of rice annually. From south to north, Indian farmers are actively engaged in sowing rice, coffee, tea, rubber, maize, various kind of millets and cotton crops (Prasanna 2014). He further added if the monsoon rainfall is delayed, the growth of the crop cultivation is also halted and affects the production of those crops for the year. It was experienced that the production of crop declined during recent major drought years like 2002, 2004, 2009 and 2014. Next, South Asian countries are known for the polluted air due to aerosol, burning of the crops and dust (Ramanathan et al. 2005Ramanathan, V, Chung, C, Kim, D, Bettge, T, Buja, L, Kiehl, JT, Washington, WM, Fu, Q, Sikka, DR & Wild, M (2005) Atmospheric brown clouds: impacts on South Asian climate and hydrological cycle. Proc Natl Acad Sci USA, 102(15), 5326-33.
[http://dx.doi.org/10.1073/pnas.0500656102] [PMID: 15749818] ). Polluted environment, due to greenhouse gas emission, droughts, food production and societal degradation, directly influences the Gross Domestic Product (GDP) and Food Grain Production (FGP) of India (Kumar et al. 2013Kumar, NK, Rajeevan, M, Pai, DS, Srivastava, AK & Preethi, B (2013) On the observed variability of monsoon droughts over India. Weather Clim Extrem, 1, 425-0.). Obviously, FGP shows a decreased trend during drought years (Gadgil and Gadgil 2006Gadgil, S & Gadgil, S (2006) The Indian monsoon, GDP and agriculture. Econ Polit Wkly, 4887-95.; Sinha 2009Sinha, P Will weak monsoon hit GDP, fuel inflation? The Times of India, August 7.).
Fig. (2)
Optimized air-sea CO2 flux (mole/m2/sec) for the global ocean from APDRC. It is model output. Positive values of CO2 show downward flux while negative values upwards. (a to l) Spatial pattern of CO2 flux (*10-7 mole/m2/sec) for each year (m) CO2 flux (*10-7 mole/m2/sec), area averaged over the small box (shown in a) over Bay of Bengal.
Many studies revealed that extreme rainfall events are increasing over Indian region (Goswami et al. 2005Kumar, NK, Rajeevan, M, Pai, DS, Srivastava, AK & Preethi, B (2013) On the observed variability of monsoon droughts over India. Weather Clim Extrem, 1, 425-0.; Rajeevan et al. 2008Rajeevan, M & Bhate, J (2008) Analysis of variability and trends of extreme rainfall events over India using 104 years of gridded daily rainfall data. Geophys Res Lett, 35, 18.
[http://dx.doi.org/10.1029/2008GL035143] ). During 1980-1990, the monsoonal rainfall used to be very continuous, light to moderate for 3-4 days. Such kind of rainfall can be compared with the drip irrigation for agricultural crops. Nowadays, monsoonal rainfall is very heavy or very light and lasts for a smaller duration and quickly, water makes the way into rivers and ponds. Porous of the soil get clogged due to the bombardment of heavy rainfall thus soil could not absorb water to the deeper layer. There is a mix response from many recent studies on both the increasing and decreasing trends of Indian summer monsoonal rainfall (Goswami et al. 2006Goswami, BN, Venugopal, V, Sengupta, D, Madhusoodanan, MS & Xavier, PK (2006) Increasing trend of extreme rain events over India in a warming environment. Science, 314(5804), 1442-5.
[http://dx.doi.org/10.1126/science.1132027] [PMID: 17138899] ; Bollasina et al. 2011).
Fig. (3)
(a to q) Wind anomalies from NCEP reanalysis at 850mb (m/sec) for all 17 years (r) Mean wind filed.
The production of rice and maize is being affected by climate variability (Ray et al. 2015Ray, DK, Gerber, JS, MacDonald, GK & West, PC (2015) Climate variation explains a third of global crop yield variability. Nat Commun, 6, 5989.
[http://dx.doi.org/10.1038/ncomms6989] [PMID: 25609225] ). Rice produces a significant amount of methane due to stagnant water and rotten substances in the paddy field. Basically, these are microscopic organisms that respire CO2 and produce methane (CH4). No doubt, the emission of methane will become all most double fold for per kg of rice production against the projected estimates of CO2 and atmospheric temperature by the end of this century (Groenigen et al. 2012Groenigen, KJV & Kessel, CV (2012) Increased greenhouse-gas intensity of rice production under future atmospheric conditions. Nat. Clim. Change, 288–291.; Lobell et al. 2013Lobell, DB, Schlenker, W & Costa-Roberts, J (2011) Climate trends and global crop production since 1980. Science, 333(6042), 616-20.
[http://dx.doi.org/10.1126/science.1204531] [PMID: 21551030] ). The model projections seem lower than that expected in the higher CO2 environment (Long et al. 2006Huffman, GJ, Adler, RF, Bolvin, TD, Gu, G, Nelkin, EJ, Bowman, KP, Hong, Y, Stocker, EF & Wolff, BD (2007) The TRMM Multi-satellite Precipitation Analysis: Quasi-Global, Multi-Year, Combined-Sensor Precipitation Estimates at Fine Scale. J Hydrometeorol, 8, 38-55.
[http://dx.doi.org/10.1175/JHM560.1] ). The land of the northern India is generally very dry before the arrival of monsoon. Jaegle et al. (2004)Jaeglé, L (2004) Satellite mapping of rain-induced nitric oxide emissions from soils. J Geophys Res, 109, D21310.
[http://dx.doi.org/10.1029/2004JD004787] found the emission of NOx from dry soil, when it gets wet for the first time. Other sources of the NOx are nitrogen laced fertilizer for soil, dry forest and grassland-savannas (Ghude et al. 2014Ghude, SD, Jena, C, Chate, DM, Beig, G, Pfister, GG, Kumar, R & Ramanathan, V (2014) Reductions in India's crop yield due to Ozone. Geophys Res Lett, 41, 5685-91.
[http://dx.doi.org/10.1002/2014GL060930] ). Other main sources of gas emissions (CH4 and NOx) are the industrial developments for the economic growth of a country. All around the metro cities, a lot of industrial development has been made for the convenience of transport and utilities, contribute to greenhouse gases (Sahu et al. 2014Sahu, SK, Beig, G & Parkhi, N (2014) Critical Emissions from the Largest On-Road Transport Network in South Asia. Aerosol Air Qual Res, 14, 135-44.). Obviously the sink and sources of these gases are located over ocean and land, both (Watson et al. 1992).
Individually, there are plenty of research works explaining the role of various greenhouse gases and their influence on crop production and the impact of rainfall on food production. However, there are not much progress on the research which explains the role of greenhouses gases and summer rainfall on crops production. Understanding the role of greenhouse gases and rainfall on grain production over the northern region is the main objective of this research work. Here, we tried to relate rainfall and greenhouse gases variability against the production of grains over northern Indian region. Average summer rainfall does not seem to show any trend over India but showing an increasing trend over few pockets/cities. From the literature survey, we realized that greenhouse gases have great bearings on the crop yields, like rice and maize. Due to such intriguing facts for rainfall, greenhouse gases and grain production drew our attention for investigation. Are rainfall and greenhouse gases considered the main reasons behind the reduction of rice production? The present manuscript is dealing with the main sources and potential impact of three greenhouse gases (CO2, CH4 and NOx) on the crops of rice and maize over north India. Based on the literature survey and objective of this research work, we do hypothesize that increasing the greenhouse has a more impact on the crop's production despite increasing trend of rainfall.